Fine weather and excellent playing conditions were a feature of Finals day held at the Selwyn Netball Centre on Sunday 23 August 2015.
Sixteen teams from across the Zone took part in the inaugural event which was played over three Sundays and hosted by six different Centres. The champs produced great netball and showed there is some exciting talent in the Zone. Christchurch 1 and 2 teams made it through to the Final which was keenly contested with Christchurch 1 winning 27 - 24. They would have been pleased they got out to a good lead early in the game as the fast finishing Christchurch 2 team were catching them when the final whistle blew to end the game.
Special thanks go to Jan Whitehead (Mid Canterbury) and Lyn Miles (Selwyn) for their contribution in getting this championship underway.
Thanks also to all the Centres, volunteers, officials, management, coaches and players for your support. NM looks forward to growing this event next year.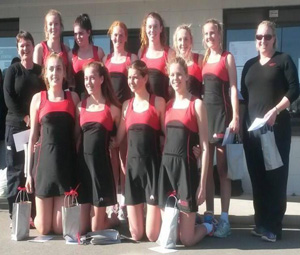 Final Placings:
| | |
| --- | --- |
| 1st | Christchurch 1 |
| 2nd | Christchurch 2 |
| 3rd | Christchurch 3 |
| 4th | Nelson |
| 5th | Mid Canty 1 |
| 6th | Marlborough |
| 7th | Selwyn |
| 8th | Sth Canty 1 |
| 9th | Nth Canty 1 |
| 10th | Nth Canty 2 |
| 11th | Sth Canty 2 |
| 12th | Selwyn 2 |
| 13th | Hokitika |
| 14th | Mid Canty 2 |
| 15th | West Coast |
| 16th | Malvern |